Evalgator at TechHR India 2023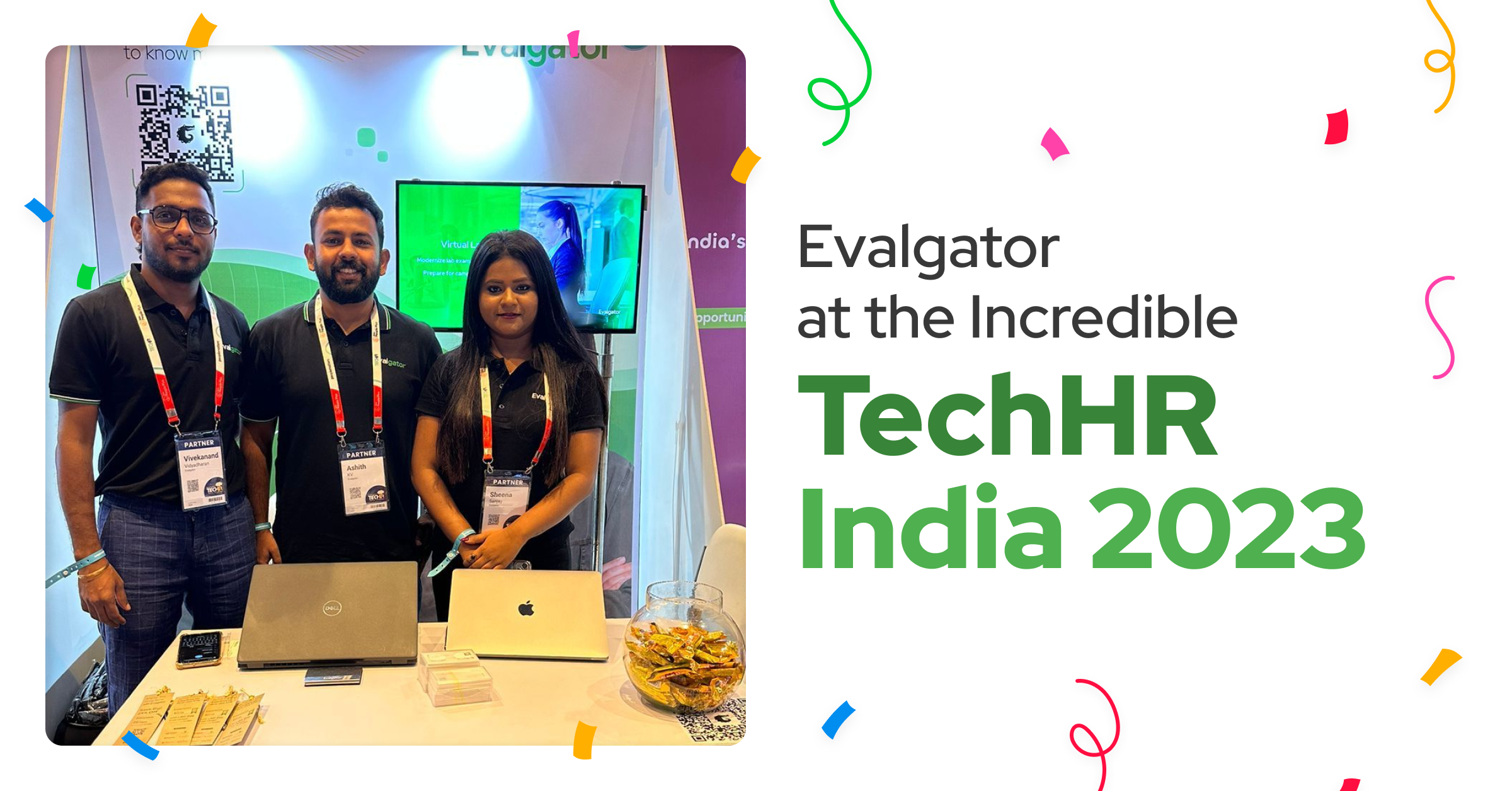 People Matters TechHR India 2023, Asia's largest HR and work tech conference held on 3-4 August 2023, brought together HR professionals, tech experts, and industry leaders to explore the latest trends, innovations, and best practices in HR technology. The event featured discussions with notable speakers including Dr. Shashi Tharoor, MP, David Burkus, Organizational Psychologist and author of Best Team Ever, and Professor Dave Ulrich, prominent management coach, among several other luminaries.
Being part of this dynamic event not only allowed us to spotlight Evalgator but also provided a platform to connect with fellow industry leaders, exchange ideas, and dive deep into the latest techHR trends. We had the opportunity to showcase Evalgator and engage with a diverse audience representing various organizations. The positive interactions and interest in our recruitment solution was overwhelming.
Here are some of the highlights from our time at TechHR India 2023.
Day 1 Highlights
On day 1, we had an exciting start showcasing the various use cases of Evalgator to delegates. Our team was able to interact with Ruvalma Fernandes – Head of Corporate HR and Talent Management – Essar Group; Raja Pandiyan – HR & Talent Hire – Royal Enfield; Vindo Dhabi – Head of HR – Best Value Chem; Manish Siddhartha – Senior Talent Head – Veolia Water Technologies & Solutions; and Anurag Saxena – AVP and OD – Air India, among others. Representatives from fellow HR tech companies DarwinBox, MeritTrac, iMocha, GreytHR, Herkey, SpringVerify, Unberry, etc., also dropped in to get an insight into our product.
Here's a glance at everything that went down on Day 1 at TechHR India 2023.
Day 2 Highlights
New and returning visitors were keen to learn more about Evalgator's recruitment solutions on day 2 of the event. Our team held discussions with Ester Martinez – CEO – People Matters; Krishnakumar C S – Sr. VP & CHRO – Essar Power; Sergi Patrick – Sr HR Head – Bajaj Allianz; Mukesh Pratap – HR – CM Business; Jhansi D'souza – Sr HR Head – Holcim Global Digital Hub; Vimmi Gujral – Talent Acquisition HR – Modicare Ltd; Jyoti Khanna – HR Talent Head – Agilent Technologies; and Manu Wadhwa – CHRO – Sony Pictures Networks. Many enterprise partners also evinced keen interest in Evalgator.
Highlights from Day 2.
HR Quiz Contest
We ran a fun quiz contest in our booth and it turned out to be a great success. It piqued the participants' interest so much that they kept returning to our booth to check their results. More than 50 people participated in the contest, and the winners were rewarded with exciting prizes.
Reflecting on Our Success
People Matters TechHR India 2023 has given us a renewed sense of purpose and an even greater drive to push the boundaries of what's possible. The momentum generated at the event will serve as a launchpad for us to continue innovating, refining, and delivering hiring solutions that exceed expectations.
We extend our heartfelt gratitude to everyone who visited our booth, engaged in conversations, and contributed to the buzz surrounding our product. Your enthusiasm fuels our determination to move forward and make a lasting impact in the HR tech landscape.